Product Tour
rewIDX Highlights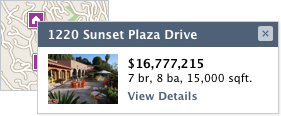 Flexible Search Options
Your users can customize their browsing experience by changing view (thumbnails or list) and sorting options on the fly, creating a more comfortable and personal real estate search experience. That means users are more likely to stay for longer periods, return more often and are more likely to find their new home through your website.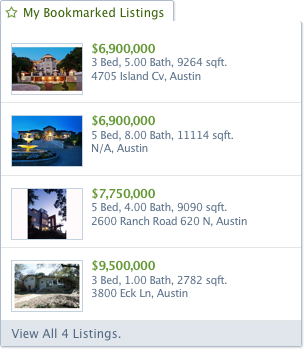 Save Searches & Bookmark Listings
Your users can easily bookmark their favorite listings and recall them all from our handy bookmarked listings menu anytime during their visit.
Result pages provide a quick summary of the active search and an opportunity to Save the Search for later viewing in a highly visible location. Your users can choose to receive listings that match saved searches via email—which will help keep you in the spotlight even when they're not accessing your site directly.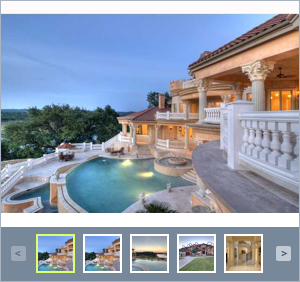 Listing Photo Gallery
Property photos may be the single most important detail that will determine if a user would like to contact you about a listing or not. Property photos are given a high-priority and are easy to access and browse from each property details page.
Clearly-Labeled Call-to-Action BUttons

We use plain-language in highly-visible locations to ensure that your users can easily make actions or find more information when they want to.

The Death of "Search"
With rewIDX, your leads see listings right away, without filling out a form with their search criteria. They start with your default set of listings (which you control – see below), but they can refine the selections in the search filter, as you can see in the screenshot to the right. This presents a much faster search for your users, which means your site will be favored by the tech-savvy buyers in your area.
Customizable by the REALTOR®
We've shown you some of the frontend features, but the really revolutionary thing about rewIDX is that you, the agent, are able to customize what your users see.
Customizing the Default Search
Users see the listings that you want them to see. Want to show them all the listings? No problem – that's the default. But if you only service a particular suburb, price range, or property type, doesn't it make sense to filter your default search accordingly? Your users can still select other options if they wish to (unless you disable those options).
Creating Additional Filters
Most real estate sites have one main "search" page, but rewIDX lets you put listings on any page of your site, with different sets of listings showing on different pages. Here's how it works:
Let's say you want to show relevant listings on your Dana Point luxury condos page.
Login and select "Build a new search"
Create the search with simple dropdown/checkbox selections: "City: Dana Point", "Property type: condos", "Price range: Minimum: $1M"
You can also omit certain criteria from the search. If you don't think your leads care about "Year built", then why let it clutter the page?
Select the default listings view style (thumbnails or list), the width of the search, and give this search a name ("Dana Point condos over 1 million").
Grab the line of code and place it on your Dana Point luxury condos page, and users will see the listings they want when they visit the page. See below!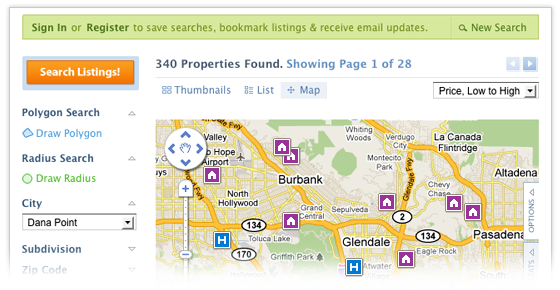 Of course, the possibilities are nearly endless. You can create pages for every area you serve, and pages for each property type in each of those areas. And all of these pages will have relevant listings on them! Your users will never use anyone else's real estate site. And why would they?